The busty brunette hottie desperately wants to get in shape, and her new personal trainer knows how to get her there. His methods are a bit, well, unorthodox. He always makes her do one extra push-up, makes her stretch her legs harder, and even slaps her ass if she's not doing it right. Fortunately Alyx is an obedient little slut. He yells at her and bosses her around. He even pulls down her top and tugs on her big tits. He slaps her tits as he scolds her for not being good enough. When she's told to pull down her bottoms, she conforms. He slaps her ass and goes so far as to finger her pussy. Once his fingers come out wet, he shoves them in her face and yells that she won't succeed because she's only got dick on her mind. He's gonna have to fuck it right out of her. Alyx agrees, not that her yes means anything. He slams that ass like a champ, and Alyx groans and moans. She's creaming all over his dick. This fun lasted for a few minutes and probably would have lasted longer if Alyx's roommate, Brandy, didn't walk in on them. This curvy babe didn't actually stumble upon them by accident. She saw the whole fuck fest from the other room and decided to join. "I forgot the exercise was today," Brandy says. Alyx calls her a liar, and the coach puts the matter to rest. He and Brandy go to the kitchen to discuss her diet and training schedule with him. The busty babe keeps telling the trainer how much she loves bananas.

FREE ACCESS TO BRAZZERS DON'T MISS THE CHANCE: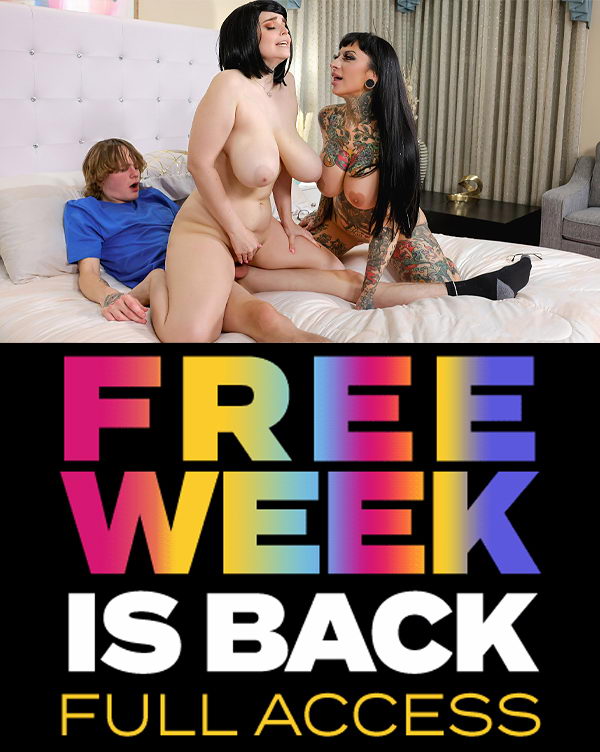 However, before she could give him more signals, he rips her bottoms down and sticks his dick inside her pussy from the back. Her chubby ass smacks and smacks his firm stomach as his hard dick pounds that itty bitty pussy. Her big tits bouncing all over! Now, Alyx interrupts them. She has something to share with her coach back in the living room. Not a minute passes, and his got his dick inside her top, fucking her sweet titties. The other slut joins them, and after a short jealous scuffle, the naked girls both start sucking his dick. They're on their knees, taking their turns on his shaft. He likes this very much. He can see the progress. After a while, he takes Alyx again. He makes her ride him on the floor like a cowgirl. This isn't about him. It's about Alyx's gluteus. Brandy understands this exercise and takes her roommate's place. A few minutes into this and he goes wild. He stands up and makes the naked girls scissor each other on the floor as they jerk him off. Their big tits are rubbing against each other. This is an exercise for their biceps and abs, he explains. The naked girls grow tired of this and want him to take them in doggy one at a time. He plugs Brandy's pussy hole as she eats Alyx out. However, this much stimulation is too much even for the experienced trainer. He busts his nut all over their big bubble asses. Now that's a training day!